Individual Meatloaves
Posted on 06 May 2010
Until I moved over to the States, there were so many traditional American foods that I had never eaten, let along tried. So when my husband and I first began dating I immediately asked what he favorite meal was. He told me that it was meatloaf with a red ketchup glaze, not covered with brown gravy! He had not had it since his mom last made it for him before she had become ill. This just about broke my heart so of course I set out to make it for him, even though I was completely unsure of what exactly meat loaf was. I sat down at my computer perplexed, intrigued and ready to learn all about the differences between red ketchup glaze and brown gravy. My curiosity quickly turn into complete confusion… Could it be that meatloaf was simply a loaf of meat? Having never eaten it I did not have any particular feelings, especially warm ones, toward this concept. I desperately needed to find a way of getting around the block of meat squished into a loaf pan.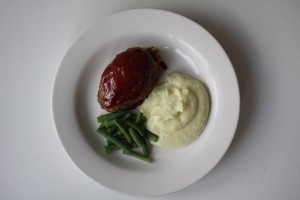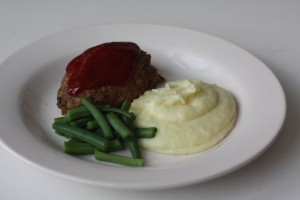 I found a delicious recipe of Sara Moulton's that combined ground beef, ground pork and ground veal with a ketchup based glaze. If there were any meatloaf recipe that I could get on board with it was going to be this one. There is a whole variety of meatloaf recipes out there made with a variety of different meats. Using the classically Italian combination of beef, pork and veal would create a milder tasting and softer textured loaf. (You can substitute ground turkey for the ground veal.)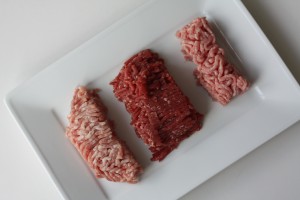 Also the ingredients in this recipe are not the typically ones found in a classic dish such as meatloaf. I love the use of freshly sautéed celery, onions and garlic rather than celery, onion, and garlic powders; you do not add the chemicals to your food or get the aftertaste that these additives sometimes create. The fresh parsley adds just a hint of herb-iness and the sour cream gives a little kick and richness. It may seem as though there are a lot of ingredients in these but at any given time you probably have most of them in your pantry and fridge.
I serve my meatloaf with a generous helping of creamy, buttery mashed potatoes and a green, usually broccoli or green beans..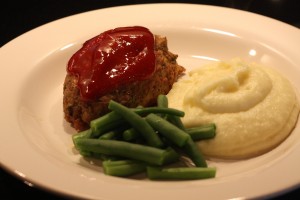 Notes: If you have fresh thyme lying around you can substitute it for the dried thyme. Remember to use the 3:1 dried to fresh herb substitution. So in this case, it will be 1/2 tsp chopped fresh thyme leaves.
You can leave the egg out if you have any egg allergies. The egg helps to bind but it is not compulsory as long as you make sure to form the loaves well before you place them in the oven.
As mentioned above, you can substitute ground turkey for the ground veal.
Even though the recipe specifies ground chuck steak, you can use any beef with a similar fat content (10 to 20%).
From time to time to keep things interesting (!) I mix up the ingredients adding them in different quantities. No recipe, other than baking recipes, are hard and fast with their exact measurements. I have made these countless times and always added more of one ingredient or forgotten another, somehow it always turns out well. The reason I have offered so many substitutions is so you can make this a master recipe and personalize it as you see fit.
Tip: If you make extra meatloaves, you can form them into ovals, wrap them in plastic wrap and place them in a resealable plastic bag and freeze them. Just increase the cooking time by 10 minutes.
Individual Meatloaves, makes 6 portion sized meatloaves
Ketchup Glaze
1 cup ketchup
1/4 cup light brown sugar
1 1/2 tbsp cider vinegar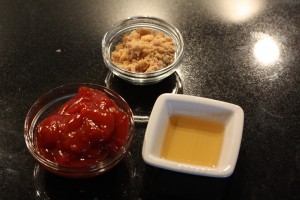 1. Combine ketchup, brown sugar, and vinegar. Stir to mix; set aside.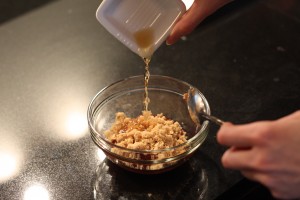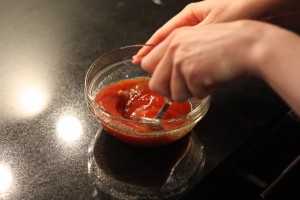 Meatloaves
1 tbsp olive oil, plus more for oiling the sheet pan
2 celery ribs, finely chopped
1 medium onion, finely chopped
3 garlic cloves, finely chopped
1 cup sour cream
1 cup breadcrumbs
1 large egg, beaten
1/4 cup whole milk
1/4 cup chopped parsley
2 tbsp Dijon mustard
2 1/2 tsp kosher salt
1 1/2 tsp dried thyme (see Notes for a fresh thyme substitution)
1 tsp freshly ground black pepper
1 lb ground chuck
1/2 lb ground pork
1/2 lb ground veal (can also use turkey)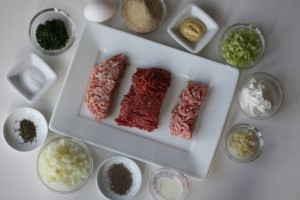 1. Heat oven to 350°F. Line a baking sheet with foil and using a paper towel oil the foil.
2. Heat 1 tbsp oil in a medium frying pan over medium heat. Add celery, onion and cook for 3 minutes, stirring occasionally. Add garlic, cook for a further 2 minutes, making sure the garlic does not brown. When vegetables are soft, remove from heat.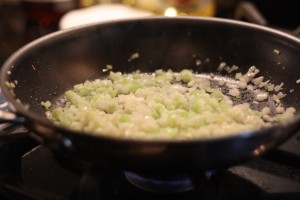 3. Place vegetable into a large mixing bowl and add 1/4 cup of the glaze; set aside to cool. Then add sour cream, bread crumbs, egg, milk, parsley, mustard, salt, thyme, and pepper and stir until combined. Add chuck, pork, and veal and combine well (I use my hands for this, taking off any jewelry of course!).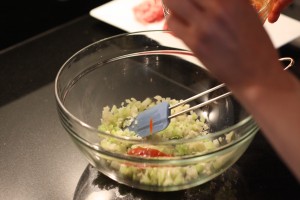 4. Scoop the mixture onto your prepared baking sheet, with either a 1/2 cup measure or your hands. Shape into ovals.
5. Divide remaining glaze over the tops of the loaves. Bake 35 to 40 minutes, or until the internal temperature reaches 165°F. Serve at once, while warm.
Search

Subscribe

Archives

Categories