Homemade Cannelloni
Posted on 13 May 2010
The first time cannelloni was explained to me, I was told it was pasta filled with meat sauce, with red sauce and white sauce. Not being familiar with American vernacular for Italian sauces at that point I thought it sounded abhorrently processed. Little did I know that it was all food that I was familiar with.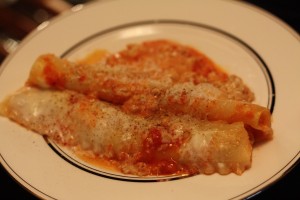 White sauce is simply bechamel sauce. Bechamel is a sauce that not everyone knows the name of but everyone is familiar with it. It is the foundation of so many dishes, fish pie, macaroni and cheese, anything served en croute and lasagne. Red sauce is tomato sauce also called pomodoro sauce or marinara sauce. Bechamel and tomato sauce are two of the great "mother" sauces, five sauces that are said to be the basis of all classic French sauces. (The others are espagnole, veloute, and hollandaise.) Somehow I was able to deduce what meat sauce was after I worked out the other two. See, staying in school did pay off!
There is nothing processed about this recipe at all. In fact, everything is this dish is homemade except for the pasta sheets. You can make these yourself using the recipe I posted a couple of weeks ago – rather than cut the sheets into strips to make fettuccine, you just cut the sheets into 4 by 6 inch rectangles, like lasagne sheets. I cheated by using pre-made lasagne sheets! I think it is a-okay to take a short cut every once in a while, especially when you are making every thing else from scratch.
Notes: Once again, you can replace the veal with beef if you have dietary restrictions.
Cannelloni, serves 2 as an entree
Marinara Sauce (Red Sauce), makes 2 cups
2 tbsp olive oil
1/2 large onion, chopped
2 garlic cloves, thinly sliced
1/4 large carrot, peeled and grated
1 tbsp chopped fresh thyme
2 parsley stems with leaves
1 28-oz can San Marzano tomatoes in juice
1. Add oil to a large saucepan over medium heat. Add onion and garlic and for 10 minutes, until soft and lightly golden. Add carrots and thyme and cook for 5 minutes, until carrots are cooked. Add tomatoes and parsley and bring to a boil, stirring to prevent burning. Lower heat to a simmer, cook until thick, about 30 minutes. Season with salt to taste.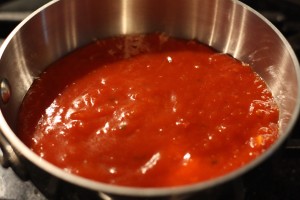 Bechamel (White Sauce), makes 3 cups
4 tbsp unsalted butter
1/2 cup all purpose flour
3 cups whole milk
Freshly ground nutmeg, to season
1. Place a medium saucepan over medium heat and melt butter. Add flour, whisking constantly to combine, cook for 1 minute until flour is cooked. Continuing to whisk, slowly begin adding milk. Once all the milk is added and while whisking bring sauce to a boil and then reduce to a light simmer. Cook for 10 minutes, whisking occasionally to prevent burning on the bottom of the saucepan. Remove from heat and season with salt and nutmeg.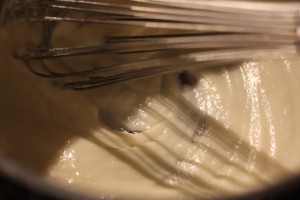 Cannelloni Filling (Meat Sauce), makes 1 1/2 cups
1/2 tbsp unsalted butter
1/4 ground pork
1/4 ground veal
1/4 cup freshly grated Parmesan cheese, separated
1 1/2 tsp all purpose flour
1/2 whole milk
1/2 large egg
Freshly ground nutmeg, to season
1. Place a 10 inch frying pan over high heat, add butter. When the butter stops foaming, add pork and veal, breaking up the meat with a wooden spoon and stirring, until browned, about 5 minutes.
2. Drain any excess fat, add 1/4 cup of Parmesan, flour and milk and bring to a boil. Reduce heat to a simmer and cook for 10 minutes, stirring often to prevent burning. Remove from heat and allow to cool. Taste to season with salt, pepper and nutmeg. Stir in egg.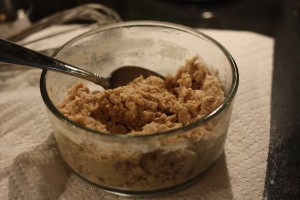 To Assemble Cannelloni…
4 lasagne sheets
Olive oil
1 1/2 cup marinara sauce
1 1/2 cup cannelloni filling
1 1/4 cup bechamel sauce
1/4 cup grated parmesan
1. Heat oven to 350°F. Bring a large pot of salted water to a boil. Cook lasagne sheets to al dente, according to manufacturer's directions, usually 5-7 minutes. Remove with a slotted spoon and place onto a foiled baking sheet, cover with a little olive oil.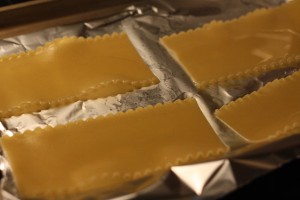 2. Pour half the marinara sauce into an 8 by 8 inch baking dish.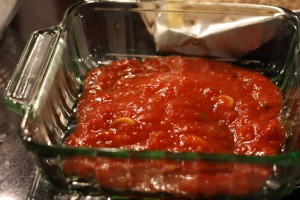 3. Fill each lasagne sheet with a quarter of the filling mixture and roll into a long tube.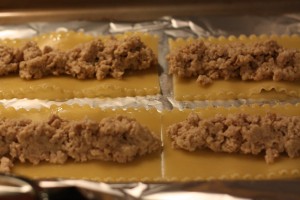 4. Carefully place tubes, seam side down, onto the marinara sauce.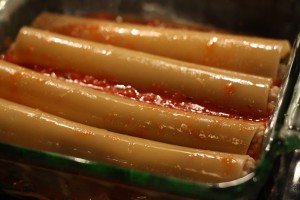 5. Pour the rest of the marinara sauce over the rolls so that they are all covered. Pour the bechamel over the top of this and sprinkle with Parmesan and salt.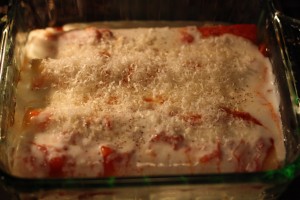 6. Place baking dish in the oven and bake for 25 to 30 minutes, until the sauces are bubbling and the edge of the pasta are browned.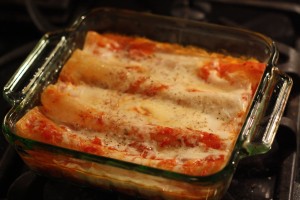 7. Leave to sit for 3-4 minute. Using a spatula, place cannelloni onto plates and then grate some Parmesan cheese over the top and serve with a green salad.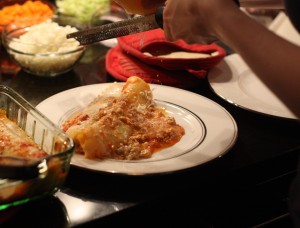 Search

Subscribe

Archives

Categories