Carrot and Coriander Soup
Posted on 10 May 2010
One of the worst feelings is when you arrive back from vacation starving and knowing all the delivery places are long since closed. This happened to my husband and I recently, after a long car journey back from North Carolina. I stared into the nearly empty fridge woefully, seeing just a bunch of carrots and the remains of a bunch of cilantro staring back at me. Having grown up eating (or should that be drinking?) this soup regularly, I was surprisingly flummoxed. Since I have lived in the US, I always associated cilantro with Central American cuisine, even though I know it is used in so many other places around the world. (One recipe I am working on at the moment is a South East Asian meatball with cilantro, pickled carrots and a spicy mayo – recipe coming soon!)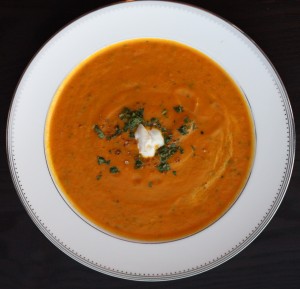 For me to remember this soup even existed, I had to call cilantro by the name I grew up calling it… coriander. When I first moved over it confused me to no end that fresh coriander was called cilantro but the dried seeds were still called coriander (so many other name substitutions confused me as well but I'll tackle those one by one!). Why would a language make it so confusing for people to know where their food was from? In my mind it is much easy for me to understand that coriander seeds and fresh coriander are from the same plant when they have the same name. But that could just be me.
This soup is true to one of my favorite childhood brands, New Covent Garden Soup Company, and their delicious Carrot and Coriander Soup. I love their recipe but for some reason I always associate nutmeg with colder months so I wanted to make a cleaner tasting, more spring like soup. I decided to use coriander seeds as well as fresh coriander to get a better depth of flavor. And I used mascarpone to make the soup slightly thicker than cream adding would but still as creamy. I made this soup most recently for an evening meal so mascarpone makes it a little heavier. For a lighter soup, I use creme fraiche, making it perfect for a quick dinner or a lunch.
This soup is also amazingly low cost, so good for you with all fresh carrot and herby goodness, and still absolutely more-ish. I never have leftovers no matter how big of a batch I make!
Notes: you can replace chicken stock with vegetable stock to make this soup vegetarian.
You can blend this soup with a hand held blender but I do not think it gets the same creamy texture that an upright blender achieves.
Carrot and Coriander Soup, serves 3-4 as an entree
2 tsp whole coriander seeds
2 tbsp unsalted butter
1 1/2 pounds carrots, peeled and roughly chopped
1 garlic clove, crushed and roughly chopped
4 cups chicken stock, plus extra for thinning the soup
2 tbsp mascarpone or creme fraiche
2 tbsp cilantro, chopped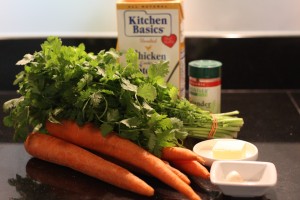 1. Heat a small frying pan over medium heat. Add coriander seeds, shaking the pan occasionally to prevent seeds from burning, cook for 1-2 medium, until seeds are fragrant and toasted.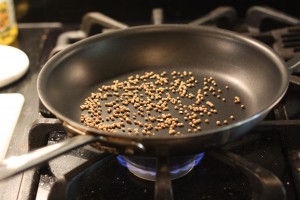 2. Use a pestle and mortar to grind the spices thoroughly. (Be warned the seeds fly everywhere!)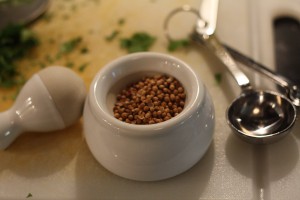 3. Heat butter in a large saucepan over medium high heat. Add carrots, garlic, and 3/4 of the ground coriander seeds, stir until coated in butter. Turn heat to low and cover, allow carrots to sweat for 10 minutes, until slightly softened.
4. Add stock and bring to a boil. Reduce heat and simmer for 20 minutes, or until carrots are soft.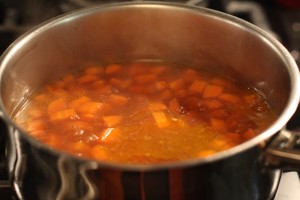 5. Blend soup, in batches, in an upright blender. Making sure to secure the lid firmly with a kitchen towel. Return blended soup to a saucepan. Stir in mascarpone or creme fraiche and season with salt and pepper.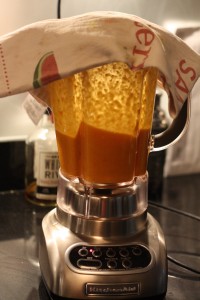 6. Serve soup in warmed bowls. Garnish with extra mascarpone or creme fraiche, some chopped cilantro and a sprinkle of crushed coriander seeds. Serve soup with crusty white bread and butter.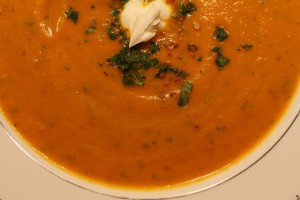 Search

Subscribe

Archives

Categories