The Unofficial Masters Pimento Cheese Sandwich
Posted on 09 April 2010
Every year the Masters Golf Tournament is played in the first week of April at Augusta National in Georgia. Every year the Masters sells eight different kinds of sandwiches, the most popular being their pimento cheese sandwich which this year cost a very reasonable $1.50. And every year my husband and his father apply in the lottery for tickets to go and see a day of play. They had not been successful… until this year!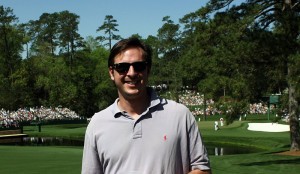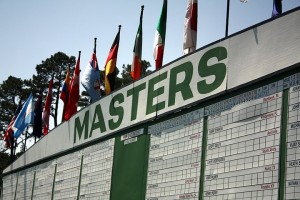 So 2010 was the year that my husband and his father went to watch the practice round on Tuesday. Being the dutiful husband he is, he went immediately to the concession stand and bought one of their famous pimento cheese sandwiches. He tried to remember exactly how the sandwich looked, how it felt in his hands, the texture of the filling and precisely how it tasted as he knew the second he walked through the door he would be quizzed. Now, reading this at home you may think that sort of sensory interrogation it slightly unfair and nigh on impossible for your average taster, but my husband is just no ordinary taster. Firstly, he is used to this quizzing, since we began dating I have always made him describe everything he eats when he is not with me (even boring work lunches when he runs to the deli to grab a sandwich); I love eating vicariously. And secondly, he is from North Carolina and he grew up eating pimento cheese sandwiches, so he knows a good one when he tastes it.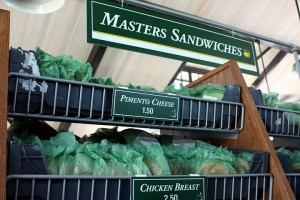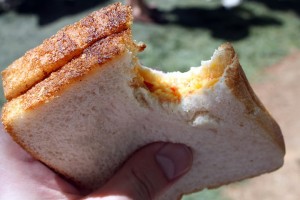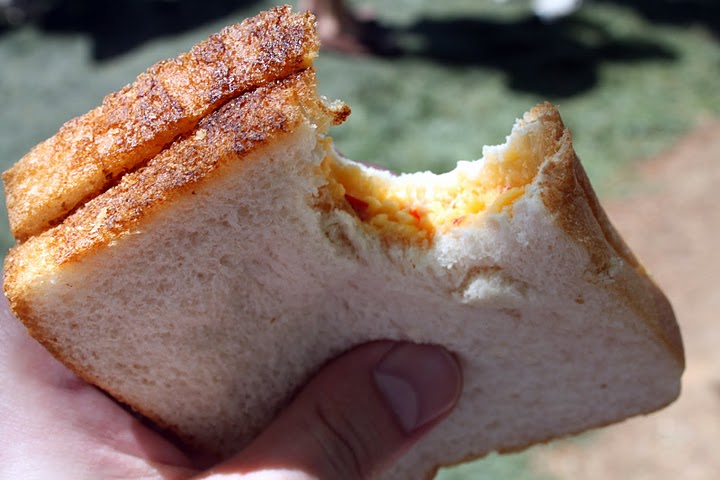 When he came back he described the pimento cheese sandwich as 'good', this was not exactly what I was looking for (he told me a lot more during the taste test, after I have tried to recreate the sandwich, but never mind!). Saying that, he did bring me back the wrapper from the sandwich, all the way back from Georgia! With this I learnt that the Masters sandwich is full of chemicals… and American cheese, Swiss cheese, mayonnaise and white bread. Sounds easy enough.
The label from the 'official' Masters pimento cheese sandwich.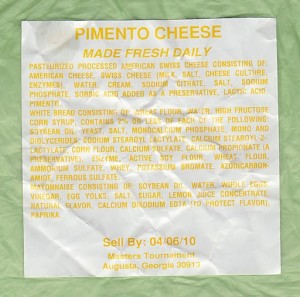 And he bought me this snazzy visor!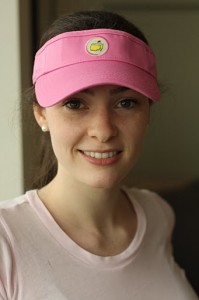 As I began researching pimento cheese sandwiches I was struck by the variety of ingredients and techniques. The cheeses in most were cheddar (sharp and extra-sharp), monterey jack and Velveeta. Some recipes were simply cheese, pimento peppers and mayonnaise. Another included hosts of ingredients, including garlic, pickle relish and chopped boiled egg. None of the recipes seemed to have American or swiss cheese in them. So I decided as any inquisitive chef would do, I decided that a test taste was in order!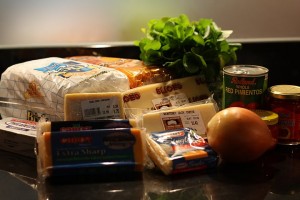 I wrote a few recipes and picked out a couple of others that I thought ranged the spectrum of the pimento cheese family, a couple with different cheeses, some with varying amounts of mayonnaise, different styles of peppers, and different seasonings. I whipped up batches of each and made my husband eat them all… he was not unwilling. We then judged the sandwiches in three categories, the one which tasted most like the Masters, the one which tasted most like a childhood pimento cheese, and then the best tasting one (this is the Best Actor Academy Award in this taste test).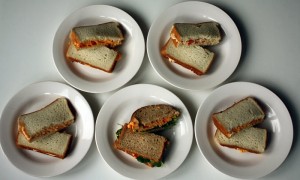 Surprisingly (and I am not bragging here as I am genuinely surprised), one recipe that I wrote won the categories for most like the Masters and most like childhood. My husband and I have deduced this is because most grown men like to eat things that remind them of their childhood (pb&j's anyone?). With that being said, I can not judge as I still love the crustless cucumber sandwiches I had in my packed lunch for years.
So without further ado I bring you the winning recipes…
Notes: to hard boil the egg for the best tasting pimento, I placed an egg in a small saucepan, covered it with cold water by at least 1 inch. Then placed it over high heat until the water boiled. Removed it from the heat and placed a lid on the pan. Placed the pan aside for 10 minutes. Poured the water out and ran the egg until cold water until cool enough to handle. Finally I peeled the egg over a trash can, it can get messy!
The "Unofficial" Masters Pimento Cheese Sandwich (and most like childhood), makes 2 sandwiches
A sandwich like no other!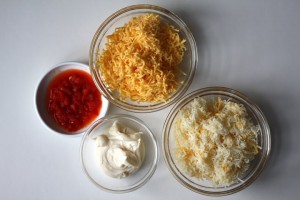 1 cup swiss cheese, about 5 oz, finely grated
3/4 cup american cheese, 4 oz, finely grated
1/4 cup mayonnaise
2 oz pimentos, chopped with juices
4 slices white bread, we used Arnold Brick Oven white bread
1. Combine all ingredients but bread. Stir vigorously for 2-3 minutes. Apply half to one slice of bread, form a sandwich with another slice. Cut through the middle, into two halves. Repeat.
2. It really is as easy as that!
The Best Tasting Pimento Cheese Sandwich (aka the Jeff Bridges), makes 3 sandwiches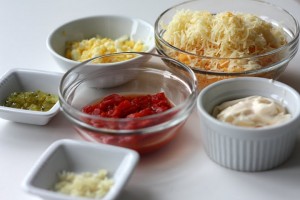 8 oz extra sharp cheddar, grated (preferably white cheddar)
2 oz pimentos, chopped with juices
2 garlic cloves, finely chopped
1 hard boiled egg, diced
1 tbsp sweet pickle relish
1/4 cup mayonnaise
6 slices white bread, we used Arnold Brick Oven white bread
1. Mix all the ingredients apart from the mayonnaise. Stir to roughly combine. Add mayonnaise and stir vigorously for 2-3 minutes until well combined. Apply half to one slice of bread, form a sandwich with another slice. Cut through the middle, into two halves. Repeat.
Search

Subscribe

Archives

Categories