Sundried Tomato Pesto Palmiers
Posted on 05 April 2010
Puff pastry is one item that I always have in my freezer, it only takes 40 minutes to defrost a sheet making it a very quick and easy way to make an tasty bite to eat. I use it for whenever I do not have time to make my own pastry or just want to make a buttery and crumbly something. I use it for the base of tarts, the lid for my chicken pot pie, I use it to make puff pastry straws or twists (which you can make sweet with sugar and cinnamon or savory with a cheese and some herbs). Another great way of utilizing this ingredient is to make palmiers. Palmiers, also known as elephant ears, are simply puff pastry filled with an infinite number of toppings, folded in on itself twice. It could not be easier! You have to allow time for the dough to refirm in between filling and baking, otherwise you are left with soggy puff pastry rather than the puffed up layers we like to see, but the active time is a snap. The filling options are endless so have some fun and get creative with them.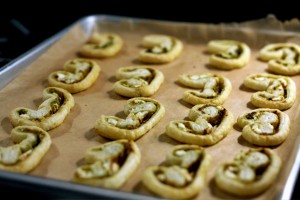 Notes: for this recipe I usually use homemade pesto (I'll include a recipe in a future post), you can also use store bought pesto. The Le Grand brand makes both a garden pesto, which is packed with basil, garlic and fresh lemon zest and a herby sundried tomato pesto, both which are scrumptious and huge time savers!
In this recipe I recommend using Silpats. Silpats are food grade silicone, non-stick baking sheets. I use them as it saves me countless rolls of parchment paper, which is great for the environment and my pocket! I have two different makes of Silpat, one is from the original company in France, which looks retro and patisserie-authentic, the other is a baking mat from Crate and Barrel which as far as I can tell does exactly as good a job for half the price. Bargain!
I have also included some extra garnishes that I sometimes put in and sometimes don't. The pine nuts, basil and Parmesan cheese are not essential but just highlight how versatile these are to make. If you are adding the Parmesan cheese I would leave out the finally sprinkle of kosher salt as the cheese contains a large amount of salt.
If the folding and then refolding concept is hard to visualize hopefully the video below will help.
Sundried Tomato Palmiers
1 pound of puff pastry, thawed (2 sheets)
1/4 cup sundried tomato pesto
1/4 cup pesto
4 oz goat cheese
2 tbsp pine nuts, toasted (optional)
2 tbsp basil leaves (optional)
2 tbsp Parmesan cheese (optional)
1. Line a baking sheet with parchment paper or a Silpat.
2. Unfold puff pastry sheet onto a floured surface. Roll out sheet until it is about 10 inches by 12 inches. Spread half the pesto evenly across the sheet. Repeat with the sundried tomato pesto. Crumble half the goat cheese over the sheet. If using, sprinkle the pine nuts or the basil leaves on top. Sprinkle kosher salt over the sheet.
3. Imagining the sheet as a book and using the shorter (10 inch) edges, fold each 'page' in half and then the two half in half again. Place the puff pastry on the lined baking sheet.
4. Repeat steps 2 and 3 with the second sheet. Cover the puff pastry with cling wrap. Place the baking tray in the refrigerator for 1 hour.
5. Line 2 baking sheets with parchment paper or Silpats. Heat the oven to 400°F. Slice the puff pastry rolls into 1/4 slices and place them onto the baking sheets, allowing space between each for when the puff pastry expands (about an inch or two). Bake in oven for 12-14 minutes or until the pastry is golden brown. Leave to cool for a few minutes and then enjoy!
Search

Subscribe

Archives

Categories