Spinach-Tomato Pinwheels
Posted on 02 April 2010
This weekend we went to the inimitable Hollister and Porter Hovey's apartment for a deliciously perfect bloody mary brunch. When someone has been kind enough to invite you into their home I hate to go over empty-handed.  Knowing that they would have a well stocked bar (they did – Hollister even made her own bacon vodka!), I decided to bring some hors d'oeuvres. As it was a day time event I wanted to bring something that was savory, so they would not compete with the bloody marys and on the lighter scale of the spectrum, not too heavy and not too rich. So these delicious spinach and tomato pinwheels were perfect for the occasion.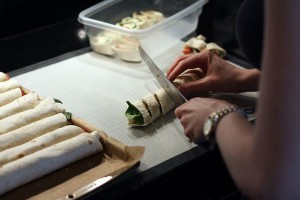 The first time I made these I was preparing for a party at our apartment. The other appetizers I had prepared were all on the heavier and richer side (!), containing lots of butter, cream and yummy goodness, but I wanted to serve a little something that was slightly healthy and green looking too. So I took to our many cookbooks, which are stacked in nooks and crannies all over our apartment and I found this recipe. *For full disclosure I am going to let you know that I did not buy this book, but received a promotional copy while I was working at Saveur magazine, (this in no way would make me biased toward a book). I hadn't really read it but in a pinch I instantly grabbed it when I saw the title, Party Snacks!  Ever since, this recipe is one of my go to for quick and easy, daytime snacks. They are also perfect for taking on picnics, you can make them into small hors or serve them cut in half as a wrapped sandwich.
Notes: you can leave the seeds from the peppers in to make it spicier. I usually leave the seeds in one pepper and de-seed the other. Also it is really important to make sure that your spinach is washed and thoroughly dried and the tomatoes are properly seeded as the moisture can make the wrap soggy… which makes it unpalatable. Pinwheels are pretty messy to make and as the blog address suggests we are space challenged.  I find this counter mat to be amazing for doing multiple things quickly as you can tidy up in a flash. Our kitchen has black countertops so this mat is also amazing for baking, when flour gets everywhere and leaves a white powder layer on everything.
FYI – Scallions are the same as green onions and are called spring onions in the UK.
The video below is our first try at time lapse video – we know we need to get the camera more still for the next one but we're still super excited about the outcome!  Thank you for watching.
Spinach-Tomato Pinwheels (makes about 80-90 pinwheels)
2 jalapeno peppers, cut into chunks
4 scallions, roughly chopped
2 8-oz packages cream cheese, at room temperature
1/2 of a 0.4oz packet of ranch dressing
1/2 tsp freshly ground black pepper
10 large flour tortilla, 10 inch diameter
5 cups baby spinach leaves, packed
4 to 5 beefsteak tomatoes, seeded and sliced thinly
1. Put the jalapenos and scallions in a food processor and process for 5 seconds, until they are finely chopped. Add the cream cheese, dressing mix and pepper and process again, until everything is well mixed.
2. Using a butter knife, spread a generous dessert spoonful of the mixture evenly on a tortilla. Arrange half a cup of spinach and a couple of tomato slices on top of the mixture.
3. Roll the tortilla tightly, place on a baking sheet. Repeat with the other nine tortillas. Once they are all rolled and on the baking sheet, cover the sheet with cling wrap and put them in a fridge for an hour.
4. After the hour, slice the tortillas, one by one, into 1/2 inch slices. (I usually snack on the ends as they don't look as beautiful as the rest, perfect for the host/hostess who doesn't have time to eat!)
5. Arrange on a serving platter and enjoy!
Search

Subscribe

Archives

Categories