Quick Italian Almond Macaroons
Posted on 22 April 2010
The reason these tasty morsels are called Quick Italian macaroons is I have two really good recipes for Italian macaroons but the other one is not quite as quick. It requires granulated sugar as well as confectioners' sugar and as a result the mixture needs to be aged overnight to allow the flavors to meld.  The result is similar to what we think of as a gentler tasting amaretti cookie but not as crispy. I will post the other at a later date and have a taste test between the two to see if you can tell the difference in the techniques and to see if the overnight aging – and waiting! – is worth it.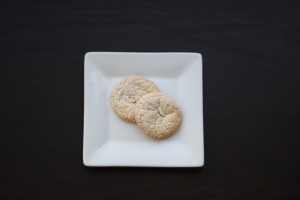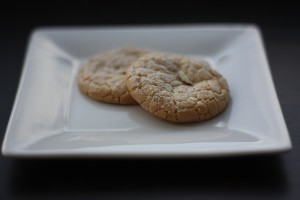 This recipe is extremely quick and easy. It only contains 5 ingredients and takes about an hour from start to finish for 24 delicious, crispy-on-the-outside and chewy-on-the-inside cookies. They look elegant and are perfect for serving with afternoon tea, making petit fours for after a dinner party (and you have too much going on already I've been there a million times!) or as I did at an anniversary party for a gorgeous boutique!
Notes: There may be some confusion between Italian, French and coconut macaroons. The Italian macaroon came first, then the French refined it and Pierre Desfontaines Ladurée added some ganache to make those divine petit fours sandwiches (thank you, thank you, thank you Pierre!). The origins of the coconut macaroon are less clear.  It is believed that it was created in Scotland and that they were made with mashed potatoes, and somehow coconut got thrown into the mix. Jewish Italian are said to have modified the recipe and due to their lack of yeast and wheat products they became a popular Passover treat.
I will be posting a recipe (or a couple!) for French macaroons in the future.
When you place the batter on to your sheet pan it will spread a lot and they puff up in the oven. Make sure to leave enough space between them to avoid them sticking together, about 2 – 3 inches.
You can make half or double batches of this recipe with no consequences. Most almond paste comes in 7 oz tubes, so I occasionally cheat it and use one tube and make just under a double recipe.
I use whole almonds and then slice them myself since I think if you are able to buy a whole ingredient rather than a processed one you should. I really believe that the oil evaporates from the almond when they are sliced and packaged, leaving them sort of dusty tasting… that could just be me though. Also buying whole almonds are a lot cheaper than buying sliced if you need an extra incentive.
Italian Almond Macaroons, makes 24 cookies or 36 mini petit fours
8 oz almond paste, crumbled into small pieces
1 cup confectioners' sugar, plus extra for dusting
Pinch of kosher salt
2 large egg whites
1/2 tsp pure vanilla extract
1/4 cup almonds, sliced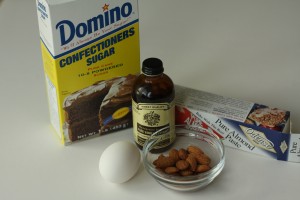 1. Heat oven to 300°. Line 3 baking sheets with parchment paper, baking mat or a Silpat.
2. Put almond paste, sugar and salt in the bowl of an electric mixer with the paddle attachment fitted. Stir on medium speed, until the mixture is crumbed together, about 3 minutes. Add egg whites and vanilla, mix until smooth, about 3 minutes. At this point the mixture should be thick and look slightly granular.
3a. For larger cookies, drop 1 tbsp of batter onto the lined baking sheet to form small circles, 8 on each sheet. Place two almond slices on each round of batter.
3b. For petit fours sized cookies, drop 2 tsp of batter onto the lined baking sheet to form small circles, 12 on each sheet. Place one almond slice on each round of batter.
4. Bake until cookies are golden brown, about 17 – 20 minutes, rotating the baking pans half way through. Let cool on their sheet on a wire rack until you are able to remove them without them tearing, about 15 minutes. Remove from sheet and continue to cool.
5. To serve, dust with confectioners' sugar. Cookies can be stored in an airtight container at room temperature for 3 days.
Search

Subscribe

Archives

Categories