Pork Fried Rice
Posted on 30 April 2010
My hubby and I love Chinese food, the flavors, the sauces, the succulent roasted ducks, suckling pig, fire grilled beef. However, we do not often like the places that serve them. In New York there are some excellent Chinese restaurants but none near us so if we want to get our Chinese food fix we have to either brave one of the delivery places around us or make it at home. After too many questionable oily and greasy meals and feeling extremely questionable after them, we have chosen to make it at home.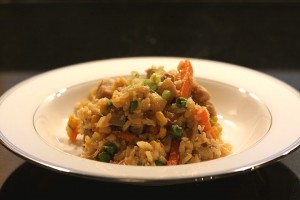 This meal is truly a one pot recipe. If you have a wok or even a large frying pan, you can make this meal (well, you also need a spoon…). The first time I made this I used the leftover cooked brined pork tenderloin I had cooked a couple of days before and some cooked rice I had in the fridge. The meal literally came together with random odds and ends I had in the fridge. They are just items that we always have in our fridge. If I were to make one addition it might be for some bok choy, Napa cabbage or another Asian green just to boost the vegetable level even further. As it is this meal is so healthy, there is no way it should not taste this good. It contains protein from the pork and eggs, carbs from the rice, and plenty of fiber from the vegetables. And even better, all the condiments and flavor added have negligible calorific importance. Just what you want from a quick, easy weekday meal!
Notes: This recipe uses some traditional Asian condiments. You should be able to find mirin, chili oil and chili garlic sauce at your local supermarket but I have also added online links just in case you can not.
I specified using extra large eggs in this recipe as I always have surplus of these from baking. You can of course substitute these for 2 or 3 large eggs depending on how eggy you want your egg fried rice.
In the ingredient list I state that the carrots must be blanched before being added to the stir fry. The purpose of this is to reduce the cooking time the carrots need to cook in the final dish. Blanching simply means to put in hot water to cook slightly and then plunge the food into cold water to stop the cooking process (see below). In this case, as we are using the carrots right away you do not have put the carrots in cold water and you can use them right out of the boiling water.
Even though this is a recipe designed to use up any leftover pork you may have from Tuesday's recipe, you can use regular cooked tenderloin or any other cooked meat.
Pork Fried Rice
1 tbsp sesame oil
1 1/2 tsp vegetable oil
1/2 medium yellow onion, chopped
1 large carrot, peeled, cut into short thin strips (batons), about 1 cup, blanched in boiling water for 3 minutes
2 scallions, thinly sliced into rounds
1/2 cup frozen sweetcorn
Just under 1 cup frozen peas
2 cups cooked brined pork tenderloin
2 tbsp soy sauce
1 1/2 tsp mirin (sweetened Japanese cooking wine)
1 tsp freshly grated ginger, preferably grated on a rasp Microplane
2 cups cooked Japanese rice, I use Nishiki brand
2 extra large eggs, beaten until whites and yolk are combined.
1/4 tsp chili oil
1/4 tsp chili garlic sauce, Huy Fong brand
1 tsp soy sauce (optional)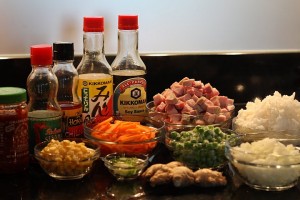 1. Heat large wok over medium high heat, add oils. Add onion and cook until soft, stirring occasionally, about 5 minutes. Add sweetcorn, carrots, peas. Stir and cook for 5 minutes. Add pork, stir to combine. Add soy sauce, mirin and ginger, stir to combine. Add rice and stir to combine. Make a small well or hole in the center of the food. Add eggs in the center, stir until eggs are cooked. You should be able to see little bits of cooked egg white and yolk throughout the mixture. Taste and adjust seasoning, if more salt is needed add the optional soy sauce.
2. Sprinkle scallions on top and serve immediately.
Search

Subscribe

Archives

Categories