Lemon Squares
Posted on 21 April 2010
Even though the weather channel is claiming it is 68°F in New York City right now, I cannot help but feel that the grey skies I am currently looking at, take off about 10 degrees. It is also not helping that I just looked again and found out that we have a chance of rain from 4 pm today, goodbye outdoor run! So I am definitely in the mood for something fun, bright and sunny to eat and I think these zesty, citrus-packed lemon bars I made yesterday will help me perfectly.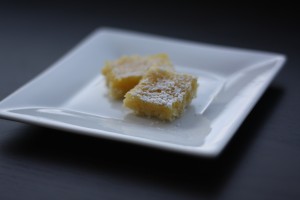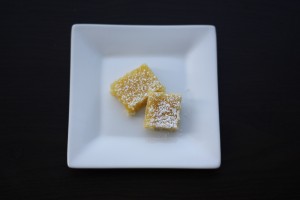 Yesterday, two of my dear friends from university celebrated their store's 2nd anniversary (happy birthday Thistle & Clover!) and they kindly asked me to cater! (Please see photo below.) As any one who lives in New York or is even just passing through for a weekend knows, I love throwing parties. Any excuse to have one and we will: college football, college basketball, the Oscars, the Kentucky Derby, Christmas, Thanksgiving, Halloween, my husband's birthday, my birthday, an out of town guest visiting, it's sunny outside, it's rainy outside…. You get the picture. So I was super excited to begin planning what I would make for this joyous event.
I wanted to make things as adorably sweet and yet as sophisticated as my friends' store is. I also wanted the two treats I picked to compliment one another and be different enough that people would get some variety. So without wasting another minute I hit my cookbooks and notes to pick out a couple of recipes. I meant to short list them down but somehow, as often happens when I think about food, I could not help but want to make about 5 different things. Being completely unable to decide I had to have my husband pick!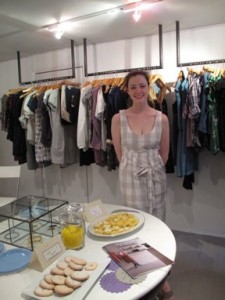 In the end, lemon bars and Italian almond macaroons won. I will post the macaroon recipe tomorrow, but for today we can feast on these! I have a couple of changes I want to make for a future recipe, which I shall post, but these morsels are too good to not tell you the recipe now.
Notes: This recipe is originally from the Magnolia Bakery Cookbook, which suggests that you cut these little curd pastries into 3 inch bars. I think that they are slightly too sweet for such a large serving so I cut mine into 1 1/2 inch squares, which also makes for the perfect mouthful. I've also made a couple of changes to the method to make the steps simpler.
In the future I do want to experiment with a less sweet version of this bite. I want to find a way to keep the crust as melt-in-your-mouth tender as it is now but with less sugar. I also want to somehow have even more fresh lemon taste in these. I'll keep you posted!
Lemon Squares, makes 98 little bites
The melt-in-your-mouth crust
1 pound unsalted butter, softened (4 sticks)
4 cups all-purpose flour
1 cup confectioners' sugar (or icing sugar in UK)
2 tsp grated lemon zest (zest from 1 1/2 large lemons)
1/2 tsp salt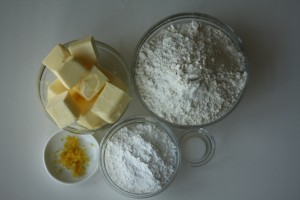 1. Heat an oven to 350°F. Butter a 12 x 18 inch jelly roll pan (also called a baking sheet or a half sheet pan).
2. In a stand mixer (e.g. a KitchenAid) fitted with a paddle attachment, combine all the ingredients and mix on a low speed (the flour and sugar will go EVERYwhere if you try to mix faster, trust me!), until the mixture comes together as a ball. This will take about 4 minutes. Turn off the mixer and remove the dough from the paddle and reform into a ball. Place the dough on the baking sheet and spread evenly over the sheet pan with your fingers.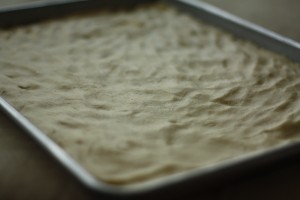 3. Bake crust for 20 minutes, or until lightly golden. Remove from oven and allow to cool for 15-20 minutes before the next step.
Lemon Curd Topping
2 cups sugar
6 large eggs, at room temperature
1 cup lemon juice (from 7 lemons)
6 tsp grated lemon zest (from 6 lemons)
1 tbsp confectioners' sugar, for dusting the squares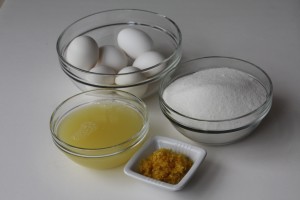 1. While the crust is cooling for 15-20 minutes, make this topping. In a large bowl, whisk all the ingredients for the curd until well combined. Pour over the crust and return to oven. Bake for 20-25 minutes, or until the edges are golden brown.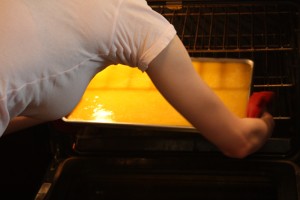 2. Remove from oven and let cool for 20 minutes, dust with confectioners' sugar.
For some reason, the coolest place in our apartment is our sitting room, hence the cooling rack on our rug…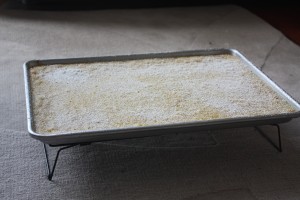 3. Allow to cool to room temperature, or overnight, before cutting and serving.
Search

Subscribe

Archives

Categories