Key Lime Pie
Posted on 06 April 2010
Recently I was in Key West for my sister-in-law's bachelorette weekend.  While we were there we enjoyed embracing the local relaxed culture (it was spring break after all!), trying their famous conch fritters and a plethora of local drinks… on a side note, be careful of the Rum Runners, they are stronger than they seem! Sadly I did not find one of my favorite desserts while I was there. I was on the look out for a Keys native, Key Lime Pie. I have made this pie countless times at home but have never had a slice that I have wanted to eat more than a bite of in a restaurant. For some reason, lots of places seem unable to make this dessert well. As I was researching and writing this post I began to think about why that is, and I decided to analyze the most commonly used ingredients.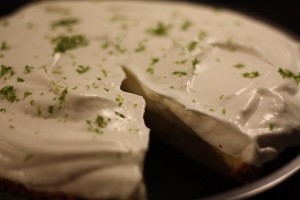 The obvious highlighted ingredient is the key lime, its' juice and its' zest. Key limes are different from the usual Persian limes that we are used to seeing in the supermarket. The first time I bought key limes I did not know what they were and bought them more for their 'cuteness quota' than to cook with them (this is also the reason that I presently have two quarts of kumquats waiting in my fridge!).  Key limes are far smaller than regular limes and have a thinner, more edible skin and are usually lighter in color, ranging from a yellow to a mid-green (the key limes most commonly found in the US, the Mexican key lime, are a darker green than most other key lime varieties), and their juice is more tart than regular lime juice, due to its' high acidity.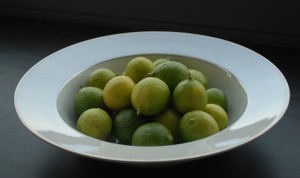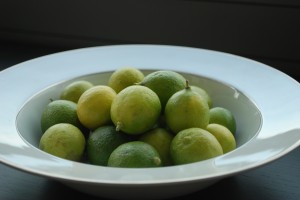 I am going to hazard a guess and say that most restaurants aren't using freshly squeezed key lime juice. They may be using regular lime juice, which could be why the pies taste too sweet or they could be using bottled key lime juice, which could be why they taste too bland and generic. Key limes are not the easiest fruit in the world to find, so this could be part of the reasoning behind why they are not using fresh juice.  It also could be the fact that key limes are torturous to juice, I am not using too strong a word there. I do not consider myself an annoyed or unhappy person but tell me to extract a cup of juice from a bag of key limes and I'll get there pretty quickly. They are tiny, and either spurt juice with wild abandon, often into an eye, or refuse to give you anything more than a trickle. They also contain more seeds than you would think possible for such a small fruit, meaning you have to try to prevent seeds from getting into your juice or you have to chase them around your measuring cup to get them out. So trust me, I completely get why people, especially people making multiple pies, would try to cut this corner. Personally, I think, if you are baking just one pie, you should do it. Also imagine how rewarding it will be knowing you didn't cheat (just keep telling yourself that as you are squeezing those limes!).  If you just can't bring yourself to make freshly squeezed juice I saw this brand all over Key West, I was half tempted to get some myself!
So to make your task a little easier, I will give you the run down on the tools you can use for the job. I tried using a citrus press and nearly exploded, the key lime didn't release any juice, kept falling off to one side and you get hand cramp in about 5 minutes. Next I tried a handheld reamer, now I love reamers and when ours mysteriously went missing I did not know what to do with myself until I bought another one, but again it was too large for this small fruit. The best thing I have found so far is a fork, it seems to work better than anything else but I'm still not satisfied. Looking around online I found this juicer and I think I'll be investing in one before I next make another key lime pie!
The second bone I have to pick with most commercially made pies is that they use processed egg yolks. I know that it is far easy for a business to pour out a set amount of egg yolks than it is to crack and separate the eggs themselves but something about them feels icky and chemical.
The only exception I will make to this, is when a pie is made with the traditional recipe. Original key lime pies are not baked, the high-acidity key lime juice was used to 'cook' the yolks which thickened the filling. In the distant past when someone first stood in their kitchen and made a key lime pie, people did not have to think about salmonella, unfortunately now, it is a very real fear. I have chosen to use a recipe that requires the filling to be baked. I am going to experiment with an unbaked filling, and if I find one that I like enough I'll post it but I will have to use these egg yolks in a carton I dislike so much.
Notes: in the ingredients I have specified that the butter needs to be melted and cooled. I know this is annoying from a time point of view but I tested both ways, just melted and then melted and cooled and found that the crumbs absorb the hot butter quicker so not all the crumbs get covered in buttery goodness. It may take a little longer until the butter cools but it will result in a better crust.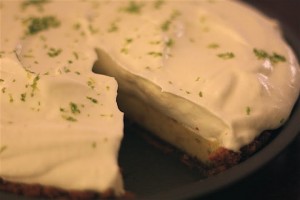 Key Lime Pie
1 1/2 cups graham cracker crumbs, Nabisco brand (about 9 crackers)
6 tbsp unsalted butter, melted and cooled
3 tbsp granulated sugar
1 14-oz can sweetened, condensed milk
4 large egg yolks
1/2 cup freshly squeezed key lime juice (about 1 pound of key limes)
1 tbsp freshly grated key lime zest (zest of about 7 key limes)
Whipped Cream Topping
1 1/2 cups heavy cream, cold
1 tbsp sugar
1. Heat oven to 375°. In a medium bowl, combine crumbs, butter and 3 tbsp sugar, stir until well mixed. Press into a 9-inch pie pan. Bake for 6 minutes, until crust is fragrant and lightly browned. Remove from oven and allow to cool to room temperature.
2. Lower oven temperature to 325°. Whisk condensed milk, egg yolks, key lime juice and zest. Pour into cooled crust. Place in oven and bake for 30 minutes until the filling is set but quivers if you shake it slightly. Allow to cool completely.
3. Whip cream and sugar until soft peaks form, about 3 minutes on medium speed of a stand mixer or 7 minutes whisking by hand. Spoon over the cooled pie, using the back of the spoon to form peaks. Garnish with zest. Cool until you are ready to eat. Enjoy!
Search

Subscribe

Archives

Categories