Cream of Cauliflower Soup
Posted on 13 April 2010
I go through phases where I become obsessed with a certain cookbook. When I first received Thomas Keller's Ad Hoc At Home from my husband, I went through one of those phases. I think within the first week I had made the braised pork belly (time consuming but delicious), the carrot cake cupcakes (super easy and delicious), roasted beets (simple method), creamed summer corn (cannot wait to make this again!), and the buttercream frosting (in chocolate and vanilla – I'm biased, but I preferred vanilla). It even inspired the hubby to cook for date night and make the brined pork tenderloin, which trust me, is not something that happens very often (read: ever). However, for some reason I did not make this cream of cauliflower soup until a few weeks ago.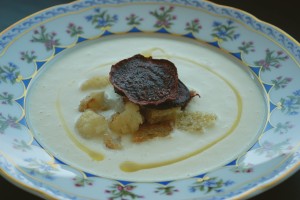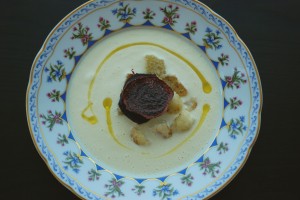 Cauliflower is not one of those vegetables I never used to put on my shopping list. Due to some Pavlovian response thinking about cauliflower always brought back traumatic memories of cauliflower cheese with congealed, orange cheddar cheese from the school cafeteria. I can now freely banish those memories and declare that I am a convert. I can officially eat cauliflower, even if it is only in this soup…
I usually shop with two things in mind, the first being seasonality. If something is in season it usually tastes better and in general it is cheaper as the stalls and stores are flooded with it. Which brings me to the second factor I look for; if something is on sale I usually look twice. I buy most of my produce from either Fresh Direct (which is an online supermarket in New York) or from the greenmarket. For some reason, even though it is not the peak season for cauliflower, both have this vegetable at a serious discount which means now is the time to make this soup!
If the photos of this soup are unable to persuade you to give it a whirl I am not quite sure what else I can say. Although, I'll give it a try. It is velvety, rich, creamy, seriously moreish (which is a word – I googled it!), and the croutons, beet crisps and the mini cauliflower florets give the soup some texture. All I can say is, today is the day that you could become a huge cauliflower fan or at least a fan of this cream of cauliflower soup.
Notes: When I am blending soup I always get wary of the top suddenly shooting off and covering me and the rest of my kitchen with the scorching hot liquid, so I take two steps for precaution*. Firstly, I only blend small batches at a time. From the lesser amount of soup, there is much less steam to build up and create pressure meaning that you are able to hold down the lid far more easily. And secondly, I always cover the lid and its' sides with a kitchen towel (or tea towel in the UK) and hold down firmly so the top is unable to come off.
*This is not just an irrational fear. When I was younger I attempted to blend an almost full blender full of watercress soup, the steam from the hot soup combined with the blender motion caused the top to explode off. And it did cover me and the kitchen in hot soup… or should I say my parents' kitchen… Sorry about that mum!
To measure the oil temperature I use a candy thermometer (also called a deep fry thermometer). If you had made the fleur de sel caramels I wrote about a couple of weeks ago you will already have one, but if not they are handy for all kinds of tasks in the kitchen.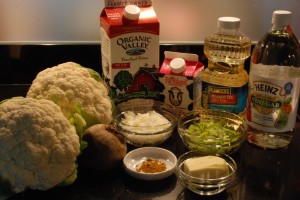 Cream of Cauliflower Soup
2 heads cauliflower (4 to 5 pounds total)
3 tbsp unsalted butter
3/4 cup coarsely chopped onion
3/4 cup coarsely chopped leeks (white and light green parts only)
1/4 tsp curry powder
Kosher salt
2 cups milk
2 cups heavy cream
2 cups water
Torn croutons (you can also use my Easy Garlic Croutons instead)
Extra virgin olive oil
1. Remove the leaves from cauliflower and cut off 2 cups of florets, about the size of a quarter. Set aside for floret garnish (see recipe below). Coarsely chop remaining cauliflower into 1 inch pieces, you need 8 cups, reserve any extra for another use.
2. Melt butter in a large saucepan over medium heat. Add onion, leeks, curry and coarsely chopped cauliflower. Season with 2 tsp salt, and cover with a parchment lid. Cook, for 20 minutes, stirring occasionally, until vegetables are almost tender. Remove and discard parchment lid.
3. Pour in milk, cream and water, increase heat to medium-high and bring to a simmer. Simmer for 30 minutes, skimming off foam from time to time.
4. In small batches, transfer soup to a blender and begin to puree (begin on the slowest speed and slowing increase to reach puree). Once pureed, transfer to another saucepan to keep warm. Check seasoning.
Garnish with torn croutons, extra virgin olive oil, beet chips (see below) and floret garnish (see below).
Red Beet Chips
About 1 1/2 cups peanut or canola oil
1 medium red beet
1. Fill a small deep pot with 1 inch of peanut oil and heat over a medium heat to 300°. Set cooling rack, lined with paper towels, over a baking sheet.
2. While the oil is heating, peel the beet and slice off 1/2 inch from the top. Using a Japanese madoline, slice the beet into rounds that are slightly thicker that paper-thin. Reserve only the full rounds.
3. Add the rounds to the oil in batches, making sure that the rounds are not touching. Fry in the oil, turning them with a slotted spoon, making sure to keep them submerged. Fry for 1 to 1 1/2 minutes. Remove with a slotted spoon and transfer to the paper lined rack. Season with salt. The chips can be kept warm in a low oven.
Cauliflower Floret Garnish
2 cups cauliflower florets (reserved from step 1 of the soup)
1 tsp distilled white vinegar
1 tbsp unsalted butter
1. Bring a medium saucepan of salted water to the boil. Add vinegar and reserved florets, blanch for 4 to 6 minutes, until tender. Drain well.
2. Melt butter in a medium frying pan over medium-high heat, swirling the pan occasionally, until the butter turns a rich golden brown. Add florets and saute until a right golden brown. Set aside.
Search

Subscribe

Archives

Categories