Chicken Salad Sandwich
Posted on 23 April 2010
Whilst I love all times of the year for different reasons, when I am stuck in the doldrums of rainy end-of-winter-beginning-of-spring all I can think about it sun, sea and picnics (maybe that last one is because I'm English :)).  I am also sure that my time spent googling last minute vacations quadruples this time of year – Costa Rica or Maldives anyone? So when we had a nice, sunny and warm day a couple of weeks ago – you know the day I'm talking about, the whole of New York rushed to a park! – I ran to my fridge to begin making a sandwich worthy of such a beautiful day.
My hubby and I have debates over whether sandwiches should be cut diagonally (me) or through the center (him). Which do you think?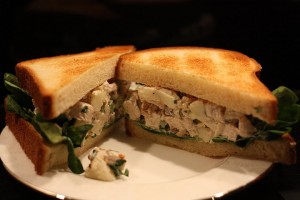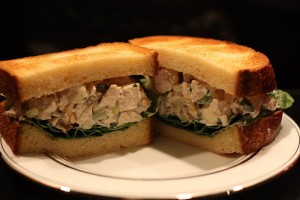 When I am creating a recipe I usually pull everything out of the fridge that looks as though it will go well together. In this case I wanted the freshness of a traditional chicken salad with some of the sweetness of coronation chicken (which is just curried chicken for all you non-Brits). I had a couple of apples at hand and thought that they would go well with the walnuts, I had bunches of celery that looked lonely, and some chicken breasts that needed to be eaten. I usually chop up a random amount of each and keep on adding ingredients in little increments until I get the taste I am looking for.  In this case I just mixed them all together with some mayo, mustard, lemon juice and voila… a perfect chicken salad!
After I had seasoned the salad, something still seemed to be missing so I added some fresh parsley. I usually have 3-4 fresh seasonal herbs in my fridge at any time to spice and jazz up dishes (at the moment I have parsley, cilantro and mint but I also still have some more wintery ones for the colder days: thyme, sage and rosemary).
I had half a loaf of brioche leftover from some bread pudding I had made, and decided that this would be the perfect vehicle for this creamy and fresh salad. Brioche is a deliciously soft bread originally from France, it is made with more egg and butter than usual bread so it is sinfully chewy, rich and slightly sweet.
This weekend the weather is meant to be beautiful in London, NY, NC and beyond so whip up a batch of these sandwiches, grab a towel and a book and run to the park! And any of you who are reading from Brooklyn, if the lawns are open at Pier 1, that's where we'll be so stop by and say hi!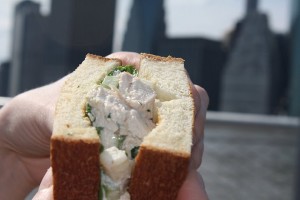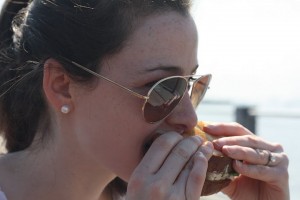 Notes: This recipe is perfect for leftover roast or poached chicken. However, it is just as easy to poach 2 skinless, boneless chicken breasts. Bring a medium saucepan up to a gentle simmer, carefully place the chicken breasts into the water and poach for 10 minutes. Make sure that the water remains at a gentle simmer, you want there to be movement in the water. Allow the breasts to cool to room temperature before dicing.
Now, I like my chicken salad mayonnaise-y. You can add more or less mayo to your salad depending on your taste.
Chicken Salad Sandwich, makes 3 large doorstop sandwiches
2 1/4 cups diced cooked chicken (see notes above)
1/2 cup celery, roughly chopped
1/2 Granny Smith apple, peeled and diced, about 1/2 cup
1/4 cup walnuts, roughly chopped
2 tbsp golden raisins
4-5 tbsp mayonnaise
1 tbsp fresh lemon juice
1 tsp mustard
1 tbsp parsley, roughly chopped
Salt and pepper to taste
1 1/2 cups baby spinach leaves, washed and thoroughly dried
6 thick slices of brioche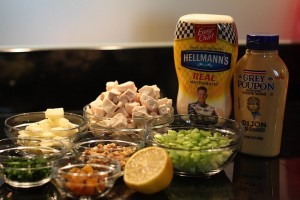 1. Combine chicken, celery, apple, walnuts and raisins and stir until mixed. Add mayonnaise, lemon juice, mustard and parsley. Taste and adjust seasoning with salt and pepper. Add more mayonnaise if needed.
2. Toast brioche on a low setting on your toaster or broiler. (I toast mine on setting 3 out of 9 on our toaster). Until brioche is golden brown.
3. Add half a cup of baby spinach leaves to a slice of brioche, top with 2/3 cup chicken salad and form a sandwich. Repeat with the other two sandwiches. Wrap in aluminium foil, find a park on a glorious day, sit and enjoy!
Search

Subscribe

Archives

Categories