Absinthe Bay Scallop Gratin
Posted on 01 April 2010
I am surprised it has taken me over a month to mention that I absolutely adore Ina Garten! I love her simple style of cooking and her ethos of using the best ingredients that one can afford is one that I fully embrace. Her most recent book, Back to Basics, is a continual source of inspiration and, looking through it gives me ideas about future parties or events that we could have.  I was drawn to this recipe as scallops are one of the easiest seafood items to cook and you are able to find sustainably farmed scallops relatively easily.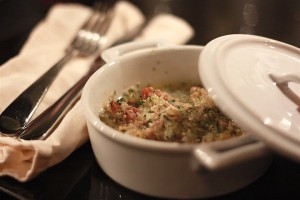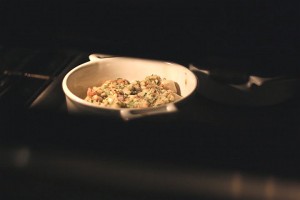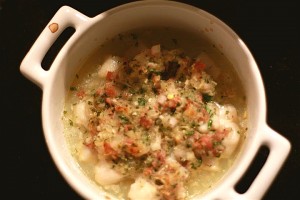 This recipe, from her latest book, is fully loaded when it comes to flavor and tastes as though it would take a lot longer to make than it does.  Honestly, the most time consuming part of the dish is waiting for the butter to come to room temperature (30 minutes should do it). It is perfect for a dinner party when you have to rush back from work and put something in the oven pronto. You can even jump in the shower and get ready as the butter is softening!
I like to serve these gratins with some fresh, crusty French bread and a simple salad with a white balsamic dressing.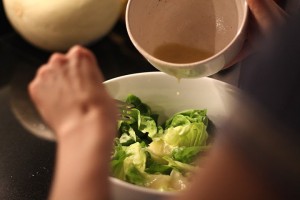 Notes: This recipe calls for bay scallops, which are smaller than regular sea scallops, (I've included a close up below). These can be tricky to find if you do not live near their native habitat, which is the North East of the US. If you are unable to find them you can use sea scallops cut into quarters. Also I mention in the ingredients that the muscles have to be removed from the scallops, you can do this by hand or with a small knife. (The muscle is the part of the scallop that attached it to its' shell in the ocean.)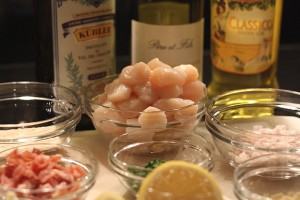 This recipe did not originally contain absinthe, the Barefoot Contessa recipe used Pernod, which of course works here as well.  I didn't happen to have any Pernod on hand when I first made this dish but, of course, I had absinthe lying around, a leftover from one of our holiday parties!, and tried it out.  Now, I would not make the dish without it.  I prefer the intrigue and edginess absinthe lends this dish.  Absinthe has the anise qualities which this dish needs, and if absinthe was good enough for Van Gogh, Toulouse-Lautrec, Picasso, Hemingway, Oscar Wilde and Edgar Allen Poe, it's good enough for all of our dinner parties!
I recommend 6-inch wide gratin dishes.  I use a mixture of these casserole dishes (which I love! So handy for dips as well) and the 9.5″ by 5.5″ size of these Pillivuyt china serving dishes (they can make anything look fancy, even crudites)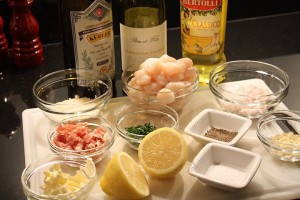 Bay Scallop Gratins
3 tbsp unsalted butter, room temperature
3 large garlic cloves, minced
1 medium shallot, minced
1 oz thinly sliced prosciutto, minced (Parma ham in the UK)
2 tbsp parsley, minced plus extra for garnish
1 tbsp freshly squeezed lemon juice
1 tbsp absinthe (or Pernod)
1 tsp kosher salt
1/2 tsp freshly ground pepper
3 tbsp olive oil
1/4 cup panko (Japanese tempura flakes)
3 tbsp dry white wine
1 lb fresh bay scallops, muscles removed
1. Heat oven to 425°. Place 3 (6-inch round) on a baking sheet.
2. Place butter in the bowl of an electric mixer (i.e. KitchenAid) fitted with the paddle attachment or use a hand mixer. On low speed, add the garlic, shallot, prosciutto, parsley, lemon juice, absinthe, salt, and pepper and mix until combined. Fold in the panko and set aside.
3. Preheat your broiler (grill in the UK), if it is separate from your oven. (I haven't seen this before but just in case you have some complicated setup.)
4. Place 1 tbsp white wine at the bottom of each gratin dish. Pat the scallops dry with paper towels and distribute them evenly among the 3 dishes. Spoon the butter mixture over the top of the scallops. Bake for 10 to 12 minutes, until the top is golden and sizzling and the scallops are just done.
5. Place the dishes under the broiler for 1-2 minutes to get the bread crumbs crunchier, making sure to be extra vigilant in case they become too well done.
6. Finish with a squeeze of lemon and some chopped parsley at top.
Search

Subscribe

Archives

Categories