The Final Recipe: Shrimp and Grits
Posted on 03 March 2010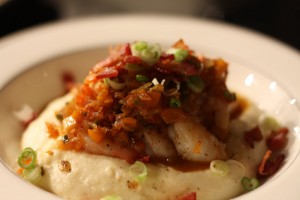 There are certain recipes that I have tried and experimented with time and time again until I have gotten them just how I like them, my chili is one, my ragu another, my chicken soup, the list of staples that every home cook has up their sleeve goes on but my shrimp and grits were particularly important to me. My husband is from North Carolina and has grown up eating shrimp and grits, I would say it's pretty high up there when it comes to his favorite foods and I love nothing more that giving my husband a taste of the place that he misses so much. As a native Englishwoman cooking shrimp and grits did not come easily to me. The first time I was served grits I refused to eat them based on their texture and how similar they looked to porridge, watery mashed potatoes or any manner of unfortunate things. How far I have come! I now not only eat grits with gusto in restaurants, I'm even making them at home. I often find making food at home is the best way for me to introduce new foods into my dietary repertoire. I ambitiously tried to make sauteed shrimp with sweet potato and smoked chile grits and green onion and cilantro sauce courtesy of Bobby Flay, whilst very delicious my husband was having none of it, there was no messing with this classic! So after countless trials where it was almost there, it finally happened. I got the validation that this recipe was the best shrimp and grits my husband has ever had*, so my quest to tweak this recipe is over and here is the final recipe.
Glossary; deglaze – dissolving cooking juices or small particles into liquid to get the most flavor for making sauces, a sec – almost dry, so you can just see the liquid.
"The Best" Shrimp and Grits
1 1/2 cups whole milk
1/2 cup cream
1 cup chicken stock
2 tsp kosher salt, plus more to season
1/2 cup white stone ground cornmeal
1 1/2 cups aged cheddar, coarsely grated
2 tbsp unsalted butter
3 rashers smoked bacon, cut into 1/2″ pieces
1 tbsp + 2tsp unsalted butter (1 tbsp = 3 tsp, you can divide butter into 1 tsp and 2 tsp and 2 tsp)
1/3 large red pepper, finely chopped
1/2 yellow pepper, finely chopped
1/2 jalapeno pepper, finely chopped
1 small onion, finely chopped
2 cloves garlic, chopped
1/2 lb large shrimp, shelled, deveined, tails on
1/3 cup white wine
1/2 cup chicken stock
2 glugs Texas Pete (a glug is the amount that comes out when you shake it)
1 scallion, finely sliced, for garnish
1. Add milk, cream, chicken stock and salt to a medium saucepan and bring to a boil. Sprinkle cornmeal over the boiling liquid, constantly whisking to prevent lumps. Continue to whisk for 4 minutes, until mixture thickens. Reduce heat to medium and continue to simmer for 20 minutes.
2. Set a 12″ saute pan over medium-high heat, add 1 tsp of the butter once the pan is hot. Add bacon and cook until browned and crispy but not burnt. Remove bacon with a slotted spoon and place on paper towels to drain.
3. Add 2 tsp butter to the bacon fat and add onion and peppers. Saute until soft, about 4 minutes. Add garlic and cook until cook until fragrant, about 2 minutes.
4. Season shrimp with salt and pepper and add to the saute pan, trying to place them in between the vegetables. Cook for 2 minutes on each side, until pink and just cooked through.
5. Remove shrimp and set aside on a plate, cover with tin foil to keep warm. Add white wine to deglaze the pan, making sure to scrape all the caramelized bits from the bottom. Reduce wine until a sec. Add chicken stock and hot sauce and reduce until sauce coats the back of the spoon. Whisk 2 tsp of butter in to sauce. Season with salt and pepper to taste.
6. Reduce grits to low heat and whisk in cheese and 2 tsp butter. Season with salt to taste.
7. Serve the shrimp on a bed of grits, cover with sauce. Garnish with bacon bits and finely sliced scallions.
* Controversial I know!
Search

Subscribe

Archives

Categories