Split Pea Soup with Ham Hocks
Posted on 15 March 2010
Every winter all I want to do is stay inside and make stews and soups a plenty. I have a nostalgia for pea and ham soup, I remember spooning the thick, almost gelatious soup out of a can and into a saucepan and then heating it until it thinned out, bubbling hot.  Eating this soup always made me understand why the thick, smokey fog we used to have in Victorian London were called "pea-soupers".
This soup is a slightly more adult version, the soup is thinner than the stick-to-your-bones versions with a lot of sophisticated flavor from the marjoram and bay leaf. I add extra chopped baked ham at the end but you don't have to, you still have the meatiness from the ham hocks.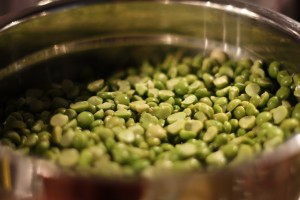 Like many other legumes, split peas are high in protein, high in dietary fiber and very low in fat.  They also contain calcium, B vitamins, phosphorus and iron and no cholesterol.  They are great for people on sugar restrictive diets as they have a low g.i. (glycemic index).  I would say that all these nutritional benefits makes these dried beans one to put on your regular rotation.  I want to come up with more recipes and I'll post them on here as soon as I do.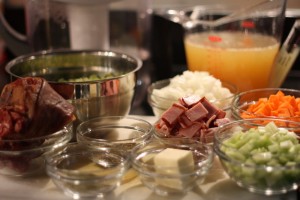 Split Pea Soup
2 tbsp unsalted butter (1/4 stick)
1 large onion, chopped
1 cup celery, chopped
1 cup carrot, chopped
1 lb ham hocks (usually 2)
2 tsp dried marjoram leaf
1 1/2 cups split peas, soaked overnight in 4 cups water
4 cups chicken stock or low sodium chicken broth
4 cups water
1 bay leaf
4 oz chopped baked ham, optional
1. Melt butter in a stockpot over medium-high heat. Add onion, celery and carrot and cook until soft, about 8 minutes. Add ham hocks and marjoram and cook for 1 more minute. Add peas, stock, water and bay leaf and bring to a boil. Cover partially and reduce heat to medium-low to keep at a simmer. Simmer for 1 and 1/2 hours, until the peas have begun to break apart.
2. Remove ham hocks, once they have cooked and if you are able remove any meat from the hocks and reserve, discard the bone and fat. Remove bay leaf. Puree the soup using an immersion blender (or regular blender or food processor) until you have a smooth soup.
3. Add ham and heat through until as warm as you like, then serve and enjoy!
Search

Subscribe

Archives

Categories