Simple Risotto
Posted on 29 March 2010
I make risotto about once a week. It is a super low cost but absolutely scrummy way of using up anything and everything in the fridge you are not quite sure what to do with. In my fridge at any given time there is usually a couple of random odds and ends of vegetables, the remnants of a block of cheese, maybe some mascarpone and there is always butter, heavy cream and some onions!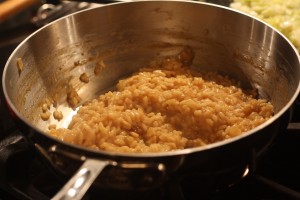 And the amazing thing about it is you can make risotto fancier (by adding porcini mushrooms, truffle oil, or lobster) or homey and an easy-peasy weekday meal with some leftover vegetables and meat.
The main expense for this dish is the chicken stock, which if you buy in bulk can be pricey but if you begin making your own… will only cost you pennies!
Notes: to make this vegetarian you can substitute an equal amount of vegetable stock for chicken stock.
You may not need all the stock when making this risotto. As the recipe explains you add the stock in half cup increments and the amount of stock I use varies each time, but you should not have more than a half cup or so extra. In a good risotto the rice is firm but cooked through. There should be a slight bite to the individual pieces and when you bite through them it should not taste chalky.
You can add extra cream or mascarpone to this dish to ramp up the creaminess. Delish!
Simple Risotto
4 tbsp unsalted butter
1/4 large Spanish onion, minced
1 cup arborio rice
1/2 cup white wine
4 cups chicken stock, hot
1/2 cup Parmesan cheese, freshly grated
1. Heat butter in a medium pan over medium heat. Add onion and cook until soft but not browned.
Add the rice and stir well to coat in butter. Cook for 2 minutes, stirring constantly, you do want to heat the rice but not brown it.
2. Add white wine and stir until absorbed by the rice.
3. Add half a cup of chicken stock, stirring constantly until it has been absorbed. Once it has been absorbed repeat the process by adding another half a cup and continuing to stir. Repeat until the rice is not absorbing any more rice.
4. Stir in Parmesan cheese and taste before seasoning with salt and pepper.
Search

Subscribe

Archives

Categories