Roasted Butternut Squash Soup
Posted on 01 March 2010
On this beautifully clear but cold March New York day I have decided to make one of my favorite soups. I love butternut squash not only because it is so good for you, high in fibre, low in fat and packed full of antioxidants and nutrients, which give it beautiful burnt orange color. The main reason I love this fruit (that's right, it has seeds so like all other gourds it is a fruit not a vegetable!) is because it has rich and buttery texture, which allows you to use a lot less butter than you would otherwise use to make something taste so good. It is so versatile and perfect for roasting and stuffing, it is delicious in warm salads, stews, and in this case soups.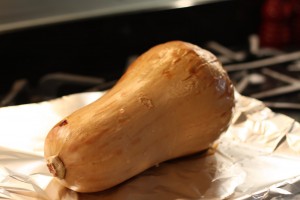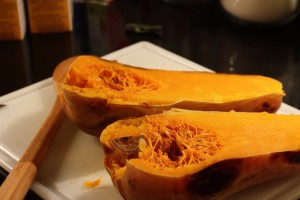 This soup is velvety smooth and so flavorful, the squash thickens the soup itself so you do not have to add potatoes or rice or any of the usual thickeners. I also love how the flavors of the butternut squash and sage mingle, it implies a much longer and more complicated recipe than the easy baking of the squash and finishing off with a simple one pot soup.
It is easy to make this soup vegetarian by exchanging the chicken stock that I usually use for an equal amount of vegetable stock.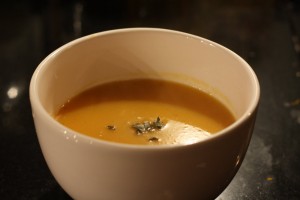 Roasted Butternut Squash Soup
1 large butternut squash (about 3 pounds, if you need to use 2 smaller ones to make up between 3-4 pounds)
6 tbsp unsalted butter (3/4 stick)
2 yellow onions
4 fresh sage leaves, chiffonade (for a step by step of how to chiffonade, click here), more for garnish
6 cups chicken stock or vegetable stock
Salt and pepper, to taste
Freshly ground nutmeg, to taste, optional
1. Heat oven to 400* F. Line a baking sheet with foil. Pierce skin of butternut squash (otherwise it may explode as it is baking), place on baking sheet and place in the oven. Roast squash for 1 hour or until the squash soft when you squeeze it.
2. Once the squash is cool enough to handle, cut in half and scoop out the seeds and discard. Scoop the flesh out of skin and discard skin.
3. Place a large saucepan over medium-low heat and melt butter. Add onions and sage leaves and cook until onion is soft and translucent, about 8 minutes. Add squash and stock and bring to a boil (you can turn the heat up here to speed the process), then reduce to medium-low and simmer for about 5-10 minutes, just to let the flavor mix it up! Turn off the heat.
4. Blend the soup. You can do this in a blender or food processor, I love my new immersion blender which save me time and handling hot liquids. Blend the soup until you have a smooth and velvety thick liquid with no lumps. If using a blender or processor return soup to clean saucepan. Reheat over medium-low heat. Season with salt and pepper, and nutmeg too if you are feeling festive.
5. Ladle into soup and enjoy!
Search

Subscribe

Archives

Categories