Pasta E Fagioli
Posted on 17 March 2010
I feel as though I have always loved pasta e fagioli.  It is one of my earliest food memories and if I ever see it on a menu I get slightly too excited and I always order it. This means that I have had more than my fair share of bad bowls of this traditional soup but it also means that I know a good one when I taste it.  The stand outs throughout my life have been Marcello's in Simi Valley, California, which my parents, my sister and I would frequent multiple times over the summers we spent there through my childhood, a restaurant called Puccini's in Lucca in Tuscany, Italy, which served the soup more lukewarm than hot and finally more recently the now closed Giovanni's in New York City.
Pasta e fagioli, which simply means pasta and beans in Italian, began from humble beginnings, due to its' inexpensive ingredients it was seen as a peasant dish.  The beans, pasta, stock and the use of leftover marinara sauce (I have substituted this with tomato paste but you are more than welcome to try it) were all readily available around the Italian household.  This dish is so well loved that when Italian immigrants moved to New York the soup found it's way into American-Italian slang; pasta fazul (after the pronunciation of beans in the Neapolitan dialect).
Ever since I have been cooking I have tried to recreate this soup and when I stumbled upon Antonio Carlucci's recipe I think I found it.  I have made a couple of changes for ingredients that I could find more readily but the recipe tastes like truly authentic zuppe pasta fagioli.
Note; this is such a simple soup that all the flavor come through, although I would always advise to use the best quality ingredients that you can, in this situation it is even more important.  I have suggested brands and stockists for the harder to find ingredients.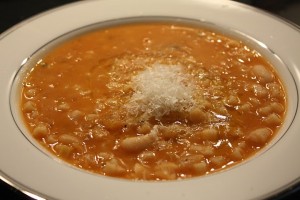 P.S. If you are looking at this picture and thinking it looks like the most warming, delicious, homey soup you could ever make, you'd be right

Tip: if you are lucky enough to live somewhere where you have access to fresh borlotti beans replace the dried beans with 11oz of fresh, make sure to reduce the cooking time in step 1 to just an hour. To make this recipe vegetarian friendly, just use an equal amount of vegetable stock rather than chicken stock. The jalapeno is optional but I like the little bit of heat it gives the soup, also you can replace this pepper with any small chili pepper.
Pasta E Fagioli
7oz dried cannellini or cranberry (borlotti) beans, soaked overnight, then rinsed and drained
6 tbsp olive oil
1 medium onion, finely chopped
2 basil leaves
1 rosemary sprig
1 quart chicken stock
1/2 jalapeno pepper, finely chopped
1 tbsp double-concentrated tomato puree
Salt and pepper
6oz tubetti or tubettini pasta, or other small tube pasta
4 tbsp extra virgin olive oil, for serving
Parmesan cheese, to taste, for serving
1. Place the soaked, rinsed and drained beans in a medium saucepan and cover with cold water (do not add salt to the water, it will keep the bean skins tough). Bring to a boil, simmer gently for 1 1/2 to 2 hours (or 1 hour if you are using fresh beans). Once the beans are soft, puree half the beans in a blender and mix with the whole beans.
2. Heat the olive oil over medium-high heat, add the onion and cook until softened. Add the basil, rosemary, jalapeno, stock, tomato puree, beans and salt and pepper. Bring to the boil, add the pasta and cook under al dente (tubettini cooks in 5-6 minute).
3. Leave to stand for 30 minutes to allow the flavors to mingle. You can either serve the soup at the temperature it cools to (the more traditional way), or reheat. Serve with a drizzle of extra virgin olive oil and finely grated Parmesan.
Search

Subscribe

Archives

Categories