Osso Buco
Posted on 29 March 2010
I have always loved braises, using the tougher cuts of meat and making them deliciously fork tender is perfect for many reasons. The first being, braises are dishes you can put on the oven and not really think about until they are done. They are perfect for busy people wanting to have dinner parties, you can prepare everything in advance, put it all in a pan and not really fuss with it until you are serving. The second reason braises are amazing is the depth of flavor you are able to create with the long, slow cooking time. Not to mention the cuts that are used for braising are usually the lower cost cuts, with the time, temperature and the braising liquid helping to break down the tougher connective tissues making it as tender as filet mignon but with far more flavor. This is not necessarily the case with these veal shanks, but I think that they are well worth it as a treat and the rest of the ingredients are low cost.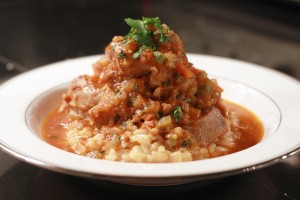 I first had this osso buco recipe at the uptown Cipriani restaurant in New York while I was still in college. Anyone who knows me is familiar with the fact that very few things make me happier than eating out at fancy restaurants and that I adore Italian everything. As I said earlier braises are so simple and unconsuming of your hands-on time that this recipe soon became a staple and a dish that I pull out whenever I want to make something easy but elegant.
Ossobuco is a Milanese dish, getting its' name from the Italian translation for 'hole in a bone' referring to the marrow-filled shank bone. It has many spellings; in cook books that I own I found three different spellings, osso buco, osso bucco, ossobuco, and many more online. It was traditionally made without the tomatoes, as these were only introduced to Italy in the late 19th century from the New World (for some reason I find it impossible to imagine an Italy with no tomatoes!). Instead it was flavored with cinnamon and allspice but still contained the bay leaf and the flavor injecting gremolada. This older version is called ossobuco in bianco and I may give it a whirl, see how it turns out and, of course, let you know the results. Thankfully though some culinary genius decided to replace tomatoes in this dish giving us what we think of today as osso buco. I serve mine with either a simple Parmesan risotto or a more traditional risotto alla milanese. I'll post the recipe for the risotto today as well.
Osso Buco
1/2 cup olive oil
4 pounds veal shanks, cut into 1 1/2 inch thick slices
Salt and freshly ground pepper
Unbleached all-purpose flour
3 celery ribs, finely chopped
2 carrots, finely chopped
1 large yellow onion, finely chopped
1/4 pound shiitake mushrooms, finely chopped
1/2 cup dry white wine
1 1/2 cups canned crushed tomatoes
3 cups hot chicken stock
Gremolada
1 tsp lemon zest, finely chopped
1 small garlic clove, minced
2 tbsp flat-leaf parsley, chopped
2 tbsp basil, chopped
1 tsp rosemary, chopped
1. Heat oil, over medium heat, in a pan large enough to fit all the veal shanks in one layer. (I used a 4-quart saute pan which worked perfectly for this recipe and at the moment it is on sale and comes with a splatter screen!) Season shanks with salt and pepper. Dredge in the flour, shaking off any excess and add to the pan (they should sizzle when you add them). Cook until both sides are browned, about 15 minutes in total.
2. Remove veal from pan and place on a plate to the side. Pour off the fat from the pan. Wipe clean with paper towels.
3. Add 3 tbsp olive oil and place pan back over medium-high heat. Add celery, carrot, onion and mushrooms. Cook until softened, about 15 minutes.
4. Add wine, turn up the heat and bring to a boil. Stir constantly until wine has evaporated. Add tomatoes and 2 cups of stock. Add the veal back into the pot, spooning the vegetables and liquid over the shanks. Add more stock to just cover the veal, if you need to add more than 2 cups of stock you should move everything to a smaller pot.
5. Bring the liquid to a boil, lower the heat and cover the pot tightly, simmer for 2 to 2 1/2 half hours until the meat is fork tender. Uncover the pan for the last half hour to reduce the liquid.
6. While the meat is cooking, chop the ingredients for the gremolada and combine them.
7. 10 minutes before serving, remove the veal and keep warm. Boil the sauce to reduce it until it has a sauce-like consistency. Stir in the gremolada, simmer for a minute or 2. Spoon the sauce over the meat.
Serve with a simple risotto on warmed plates.
Search

Subscribe

Archives

Categories