Fresh Egg Fettuccine
Posted on 30 March 2010
When people extol the many virtues of fresh pasta I often agree with them, but when they do it at the expense of dried pasta I often stop. I do not think you can even compare the two. Dried pasta is something that I always have on hand in the pantry, you can store it at room temperature and it keeps almost indefinitely. It also holds up better to mistreatment, if you forget to pull your dried pasta off the boil a minute too late you may not have the perfect al dente bite you were hoping for but it will still be edible. In contrast one minute too long on the boil with fresh pasta, you will have mush.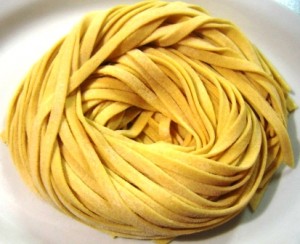 Fresh pasta contains egg and water making it much more perishable, you need to keep it in the fridge and it usually has a shelf life of two to three days. Given fresh pasta's temperament it is easy to see why it is regarded as such a treat. It has a unique texture and is sinfully silky on the tongue when paired with creamy sauce, like an alfredo. Most supermarkets carry fresh pastas now, so you should be able to find it on a shelf near you. I am lucky enough to live in a city where I can order my fresh egg fettuccine online and it will be delivered the next day (*love Fresh Direct – if you live in New York I cannot recommend this brand more). That being said making pasta at home is time consuming but it is rather fun and it definitely gives you a sense of accomplishment that you have created food from eggs and some flour.
Note: to make homemade pasta I would advise using a pasta maker (you can go traditional and roll it out by hand and cut it yourself but would not recommend it for your first time), I have found this one works well. If you do not want to have extra one use appliance (which I understand from a space point of view!) then you can get a KitchenAid attachment but it is much pricier.
When cooking fresh pasta make sure that you are cooking it in a large pan and plenty of water, it has a tendency to want to stick together so make sure you give it a gentle stir when you first put in the water as well. I recommend 1 gallon of water per pound of pasta. I also love this pot and find it's the perfect size for cooking pasta and I love the mesh inserts it comes with (perfect for pasta and the steaming basket for things like dumplings, fish or veggies).
Fresh Egg Fettuccine
2 1/2 cups all-purpose flour
3 large eggs, at room temperature
Pinch of salt
1. Place the flour on a clean work surface and make a well in the center. Break the eggs into the well and add salt.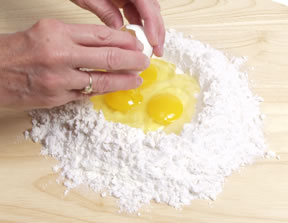 2. With a fork, begin to gently beat the eggs in a circular motion, incorporating approximately half the flour.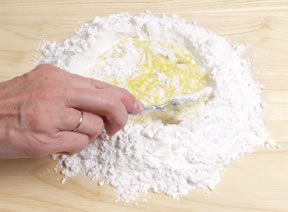 3. At this point you should be able to combine all the flour with the eggs.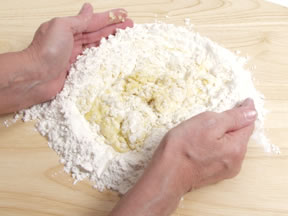 4. Knead the dough by hand for 3 to 4 minutes. The dough should be soft, pliable but slightly lumpy. Wrap the dough in plastic wrap (cling film) and rest for 20 minutes.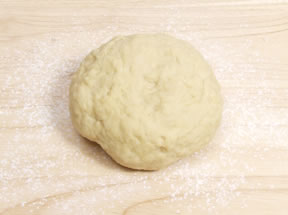 5. Cut the dough into 4 pieces and recover with the wrap to prevent a skin from forming.
6. Using one piece at a time and leaving the rest covered, flatten the piece so it will fit through the pasta machine on its' widest setting. Roll the dough through the machine, then fold the dough into three (like a business letter fold), making sure to press out all the air between the layers (this process is called kneading).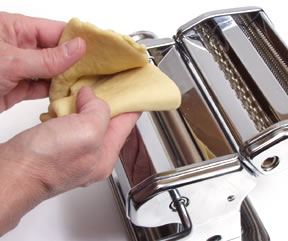 7. With the smaller end first, roll the dough through the machine again. Repeat five more times.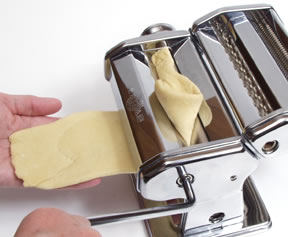 8. Repeat the process for each of the other three pieces of dough, keeping the other pieces covered.
9. Once all the pieces have been kneaded, roll a piece of the dough through the machine, reducing the setting with each roll until you reach the thinnest setting on the pasta machine. (Do not fold the dough in between rolls).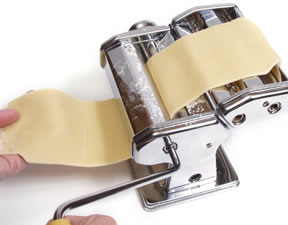 10. Using the fettuccine blade (should come with the machine), form the fettuccine.
11. Repeat for each piece of dough.
12. In a large saucepan, bring 1 gallon of water to a boil, add 2 tbsp salt, add the fresh pasta, making sure to give it a gentle stir when you first add it to the pot. Cook until desired degree of doneness. (I begin checking after 2 minutes and find it only take 3-4 minutes).
Photos courtesy of cateringonthecoast.com and recipetips.com
Search

Subscribe

Archives

Categories