Fleur de Sel Caramels
Posted on 02 March 2010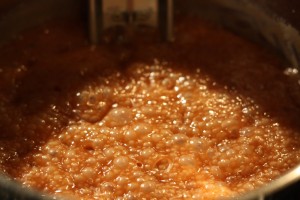 I go through phases of liking different kinds of candy, at the moment I'm still tackling my Christmas candy so I'm consuming a handful of Jelly Belly as I write this (island punch are my new favorite), but I when I am peckish candy isn't the first thing I reach for. I'm far more likely to be craving a juicy, furry nectarine or dreaming of a vanilla buttercream macaroon than reaching for a Snickers bar. I do make one exception to the candy that I crave – homemade toffee, very few things in life can make me happier than homemade toffee. This recipe is perfect for a hostess gift, petit fours for after dinner with coffee, or a mid-afternoon pick me up! You can serve them simply, just cut into squares or roll them into cylinders and you can leave them uncovered or wrapped in parchment or cellophane. They keep for about a month in an airtight container but I don't think they will be around that long!
I saw this recipe on Ina Garten's Food Network show Back to Basics and had to make it that evening. I noticed the quantities were off in the recipe on the FN website so I transcribed them from the show itself. All you need for this recipe is a good heavy bottomed pot (between 6″ to 8″ across the top and 5″ deep, 3-4 quart capacity), a 8″ square baking pan, parchment paper and a candy thermometer.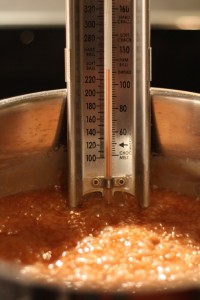 Fleur de Sel Caramels (adapted from the Barefoot Contessa's recipe)
Vegetable oil
1 1/2 cups granulated sugar
1/4 cup light corn syrup
1 cup heavy cream
5 tbsp unsalted butter
1 tsp fleur de sel, plus more for garnishing
1/2 vanilla extract
4″ square pieces of parchment or acetate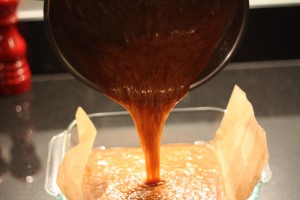 1. Line the bottom and sides of an 8″ square baking pan, allowing the paper to drape over 2 sides (see photograph above). Lightly grease the paper with vegetable oil.
2. In heavy saucepan combine sugar, corn syrup, 1/4 cup water and bring to a boil over medium-high heat. Continue to boil until the caramel is a warm golden brown color. Don't stir the mixture (you will get sugar crystallization which feels gritty), just swirl the pan to mix. Watch mixture carefully, it burns very quickly at the end.
3. At the same time bring the cream, butter and 1 tsp fleur de sel to a simmer in a small saucepan over medium heat. Remove from heat, set aside.
4. When the caramel mixture is golden brown slowly add cream mixture – it will bubble up violently, be mindful. Remove from the heat and stir in vanilla extract. Place back over medium heat and heat until caramel reaches 248* (firm ball – it should be labeled on the candy thermometer). Carefully and slowly pour the caramel into the prepared baking tin and allow to set in the refrigerator.
5. Now at this point you are able to either cut them into 1 inch squares, which you can wrap in the parchment or acetate. Or using the parchment paper to keep your fingers from getting sticky, roll your caramel tightly until you have rolled a third of it, then cut along the edge. Repeat twice more to make 3 identical tubes, sprinkle fleur de sel over each roll, then cut the rolls of caramel into 10 pieces and wrap the pieces. Sit back and enjoy your homemade candy!
Search

Subscribe

Archives

Categories