Edamame Hummus
Posted on 26 February 2010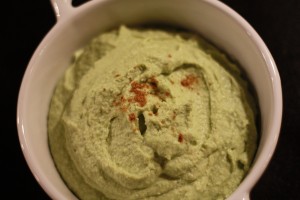 I have begun taking an online course about how to make your heart healthy. Amongst all the long words and scientific sounding theories there is one thing that resonates with me, the fresher the food, the brighter the color, the better it is for you. I love the thought that a variety of all these colored fruits and vegetables are making my body stronger and healthier for me.
With all that in mind it is not a surprise that this hummus is a bright, vibrant pea green. My grocery store began carrying the frozen shelled peas and I wanted to try to use edamame in a dish. I have only ever had this bean served simply boiled in the pod and seasoned with salt and while this is delicious, I wanted to get all of the nutritional benefits this bean offers without the monotony of eating that one appetizer.
This fresh tasting, healthy and delicious dip is super easy, it is a modified Ellie Krieger recipe. I am not very familiar with her shows or recipes but after trying this one I'm looking forward to finding more. I have halved the original recipe, I find that this serves 2-3 people happily as a dip or a healthy side, you can of course double this or change it to fit the number of people you need to feed.
Some notes – to cook the edamame, I boil frozen shelled edamame for 4-5 minutes in salted water. And that is not a typing error in the ingredients, I do use olive oil not extra virgin olive oil as I prefer the lighter taste but you can use either.
1 cup cooked shelled edamame
1/2 cup silken tofu
1/4 tsp kosher salt (if using fine salt season to taste)
2 cloves of garlic, roughly chopped
2 tbsp olive oil
3 tbsp fresh lemon juice
3/4 ground cumin
1. Place all the ingredients in a food processor and blend for 2 minutes until you have a smooth paste.
2. Season with more salt, lemon juice and cumin to taste.
3. Serve with cut celery, carrots, red, yellow peppers or if you are feeling lazy tortilla chips!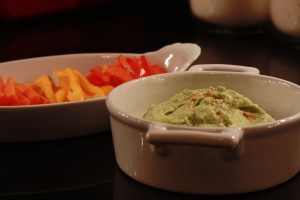 Search

Subscribe

Archives

Categories